Since I've become an adult, I've had stresses, anxieties, compulsive behaviors.† I've always had a hard time dealing with them.† In fact, in looking back now, it dates back to even my childhood.
I created this Android app Behavior Therapy Tracker as a tool to help me; which it has immensely.† It works by creating a list of behaviors.† This list can contain anything that you wish to track.† For example:
Stressed about work

Unable to sleep

Checking I turned the oven off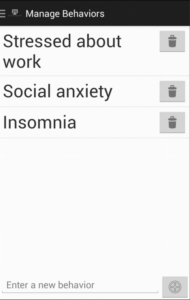 Along with behaviors, a list of refocusing activities are required.† When youíre practicing behavior therapy, itís important to first recognize your behavior (the list you created previously) and attempt to train your mind to ignore or avoid it.† This is often accomplished with a refocusing activity.† For example, when you are stressed, itís often a good idea to turn the negative thoughts into positive thinking.† Positive thinking is often a fantastic tool to overcome many anxieties and disorders.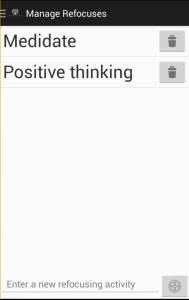 After your behaviors and refocusing activities are created, you can now begin tracking your behaviors with this simple form: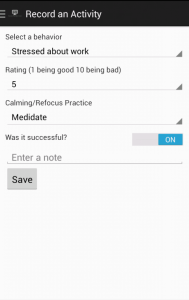 For best results for tracking purposes, itís advised to attempt and enter each occurrence immediately or on the same day.† The reporting tools that have been created can hopefully help you detect patterns in your behavior, arming you with tools to help fight them in the future.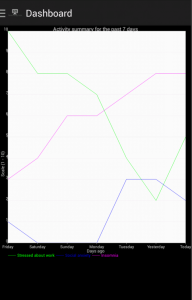 Why is this a paid application?
I've made this a paid application because I have a family to support and I invested a lot of time in creating this application.† As a sign of support in return for what will hopefully help you, Iím asking for a small payment.
Will you continue to add features?
Yes.† I already have a few ideas in mind to extend the functionality of this application.
Share your thoughts
I would be more than happy to hear your thoughts on the app.† Donít hesitate to email me at info at endyourif.com.
Published on Sep 1, 2013
Tags: stress | Theory | android | Android